EYECARE SERVICES
Serving Vancouver False Creek, Granville Island and Olympic Village.
Adult, Senior & Children Eye Examinations
Eye Emergency Treatments including Red/Pink Eye
Cataracts, Macular Degeneration & Glaucoma Evaluation
Dry Eye, Diabetic & Hypertensive Retinopathy Assessment
Contact Lenses Fitting (RGPs, Multifocals,Keratoconus)
Laser Eye Surgery Consultations
Digital Retinal Imaging, Eye Pressure & Visual field
Direct Billing Available to Insurance

(click here to view our eligible insurers companies)
Walk Ins and New Patients Welcome
Did you know? Eye exams for children begin at age 6 months. Children 18 years and under are fully covered under their care card.
RECOMMENDED EYE EXAMINATION SCHEDULE BY THE CANADIAN ASSOCIATION OF OPTOMETRISTS
Infants and toddlers (birth to 24 months)
By age 6 months
Preschool (2 to 5 years)
At age 3, and prior to entering elementary school
School age (6 to 19 years)
Annually
Adult (20 to 64 years)
Every one to two years
DR KAREN WONG OPTOMETRIST
Dr. Wong pursued a Bachelor of Science at McGill University as a recipient of the R.E. Powell Scholarship. During her studies, she conducted research at the McGill Vision Research Centre and volunteered at the Montreal Children's Hospital. After several years at McGill University, she completed her Doctor of Optometry degree with Honours at the University of Waterloo, the only English speaking Optometry School in Canada.

During her clinical training, she completed an internship at Omni Eye Specialists in Baltimore. At this multi-specialty ophthalmology clinic, she was involved in the diagnosis and management of many eye conditions such as cataracts, glaucoma and macular degeneration. After her training in managing ocular pathology, she furthered her studies in advanced specialty contact lens fitting in Australia. Between her clinical rotations, she has volunteered to provide eye care to underserviced communities in Nicaragua and Australia. After many months abroad, she has returned to Vancouver with extensive experiences in Lasik, ocular pathology, and contact lenses.

In her free time, she enjoys travelling, snowboarding and tennis. Dr. Karen Wong enjoys seeing patients of all ages at the Olympic Village location and is happy to provide services in Cantonese and English.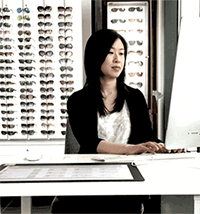 CONTACT LENSES
Our office has contact lenses for all your visual needs such as near sighted, far sighted, astigmatism, bifocals, hard contact lenses, coloured contacts and many more!
BOUTIQUE EYEWEAR
Our boutique eyewear collection includes high quality frames from Italy, France, Germany, Denmark, Spain, Poland and Japan. Our friendly staffs are committed to find you the perfect pair of glasses to fit your unique face shape, prescription and lifestyle needs.

Our experienced staff will be able to help you chose the best lens design to reduce the lens weight & thickness. To help you protect your eyes from damaging UV rays, our clinic also offers prescription sunglasses, polarized lenses, and Transitions® Photochromic lenses. Our premium lenses and coatings are from optical technology leaders such as Nikon, Essilor, Hoya and Carl Zeiss.
CONTACT US
Coastal Eye Clinic
1681 Manitoba St
Vancouver , BC
V5Y0B8
: 604 559-1222
: 604 398-2881
: info@coastaleyeclinic.com
Hours: Services by Appointment Only
We are located inside Coast Medical
in the Olympic Village.